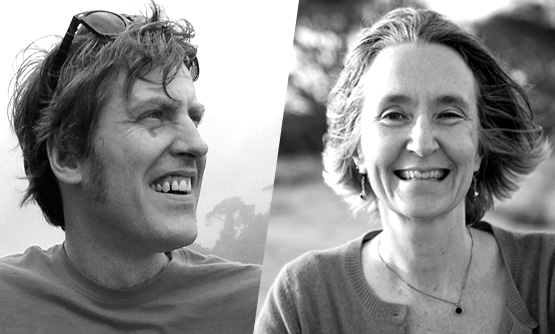 Sarah Horton and David Sloan
UX Strategy Lead & User Experience Research Lead
The Paciello Group

---
About Sarah Horton
UX Strategy Lead at The Paciello Group
Durham, New Hampshire, USA
Sarah is interested in exploring ways to improve quality of life through good design. As User Experience Strategy Lead at the The Paciello Group (TPG), she works with companies and product teams to create "born accessible" digital products and services that work well for everyone. She is co-author of A Web for Everyone with Whitney Quesenbery and Web Style Guide with Patrick Lynch.
Twitter: @gradualclearing
About David Sloan
User Experience Research Lead at The Paciello Group
Dundee, Scotland
David has spent over 14 years as a researcher, educator, and consultant, helping people to create great digital products and services that can be used by as many people as possible, regardless of disability. He joined The Paciello Group (TPG) in 2013, having previously worked at the University of Dundee's School of Computing, one of the world's largest academic research groups investigating better digital accessibility for older people and people with disabilities.
Twitter: @sloandr
---
Author of:
Designing Accessible User Experiences

Rosenfeld Media

Basic Design Principles for Creating Web Sites

Yale University Press
---
Talk:

Empathy, Education, and Excellence in Inclusive Design
Thursday | 11:20 – 12:00
How to get a project team to the next level on inclusive design.
Designing great user experiences for everyone, including people with disabilities, requires shared responsibility across a project team. but how do you motivate and educate project team members to contribute effectively to inclusive design? In this presentation we will discuss ways to use education and user research methods to build empathy for people with disabilities, to better understand and design for diverse user needs.
ATTENDEES WILL LEARN
How responsibility for accessibility can be most effectively distributed throughout product teams.
The importance of empathy for human diversity in helping team members successfully meet their accessibility responsibilities.
Effective ways of involving people with disabilities in product team education and research activities.
How to engage the product team with education and research activities and outcome.
THIS SESSION IS RELEVANT FOR PEOPLE WHO ARE RESPONSIBLE FOR
UX: Strategy, research, accessibility
Leadership: Product owner, project management
SLIDES

---
Workshop:

Accessible User Experience Design Studio
Friday | 9:00 – 12:30
studio 1
What are the key tools and methods to make inclusive design a reality.
User experience designers know that making people successful is the best way to achieve product success. However, people with disabilities are not typically considered in the design process, and efforts to ensure success are normally addressed in code rather than through strategy and design. In this workshop we will use design thinking methods to explore problems that people with disabilities encounter when working with digital products and to conceptualize solutions. We will then cover accessible user experience design patterns and best practices, and discuss methods for integrating accessibility into the design process.
ATTENDEES WILL LEARN
The benefits of integrating accessibility into user experience research and design.
Design thinking methodologies as applied to accessibility.
Accessible user experience principles and guidelines for creating good experiences for people with disabilities.
How to integrate responsibility for accessibility into product teams.
How to integrate practices to support accessibility into the product development lifecycle.
THIS WORKSHOP IS RELEVANT FOR PEOPLE WHO ARE RESPONSIBLE FOR
UX: Strategy, research, IA, content
Design: Visual design, interaction design
Accessibility: Engineering, QA
Leadership: Product owner, project management
---